How to set up the Zapier Integration for Sources
Riminder+Zapier allows you to integrate +300 relevant web apps to automate workflows and streamline your recruitment process.
In this article, you will learn how to create a Zap to enable synchronization with any of your sources, i.e. talent pools and recruitment channels. A Zap is basically an automated task that you want to run over and over again between one tool and Riminder. A Zap consists of a trigger and an action: When A happens (Trigger), do B (Action).
Interesting use cases to automate your Sources integrations would be:
Cloud storage (Google Drive, Dropbox, OneDrive, Box...)
Livechat (Intercom, CVbot, Drift...)
Forms (Typeform, Google Forms...)
Step 1
Before anything else, you need to activate the Zapier integration on your Riminder account. Go to Integrations, click on Zapier > Install, and then simply turn it on.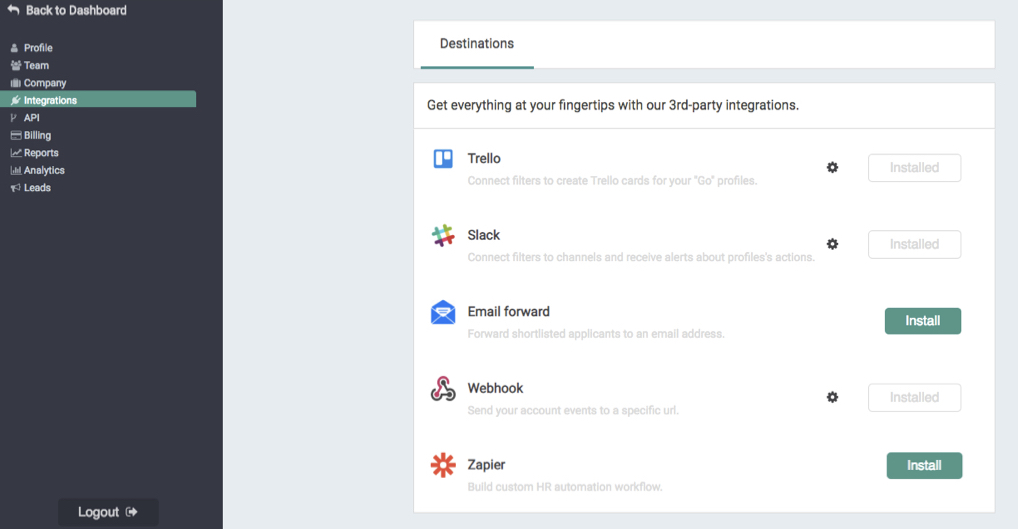 Step 2
Head to Zapier to log in or sign up.
Step 3
Once you're logged in, click on Make a Zap to get started.
Let's take the example of Dropbox, the cloud storage provider you want to connect to Riminder as a Source of profiles. This Zap will allow you to automatically add a new profile to a Source on Riminder each time a resume is uploaded to a specific Dropbox folder.
Choose Dropbox as the Trigger app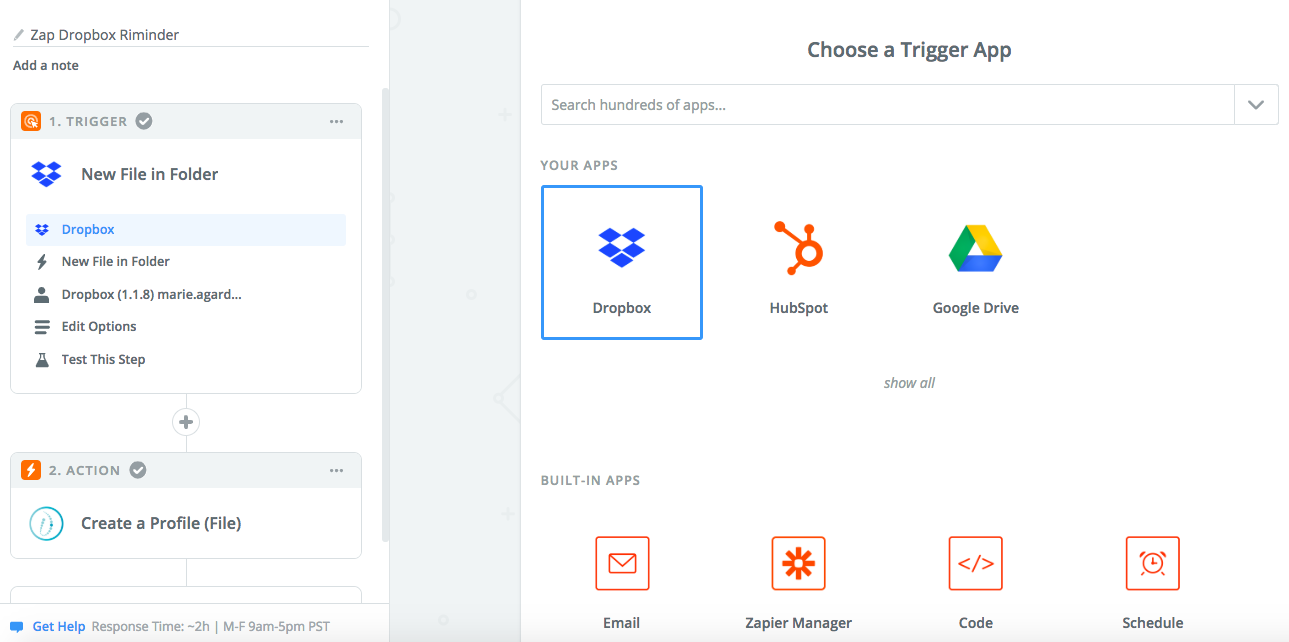 Choose "New File in Folder" as the Dropbox Trigger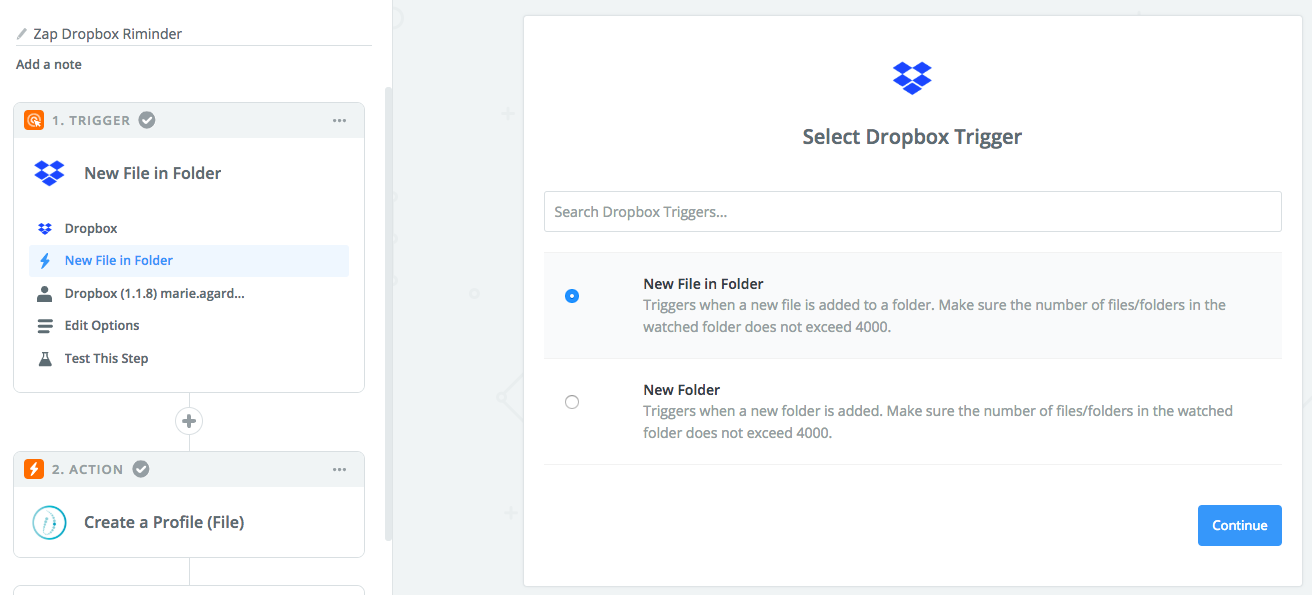 Connect your Dropbox account
Specify the chosen Folder where CVs will be uploaded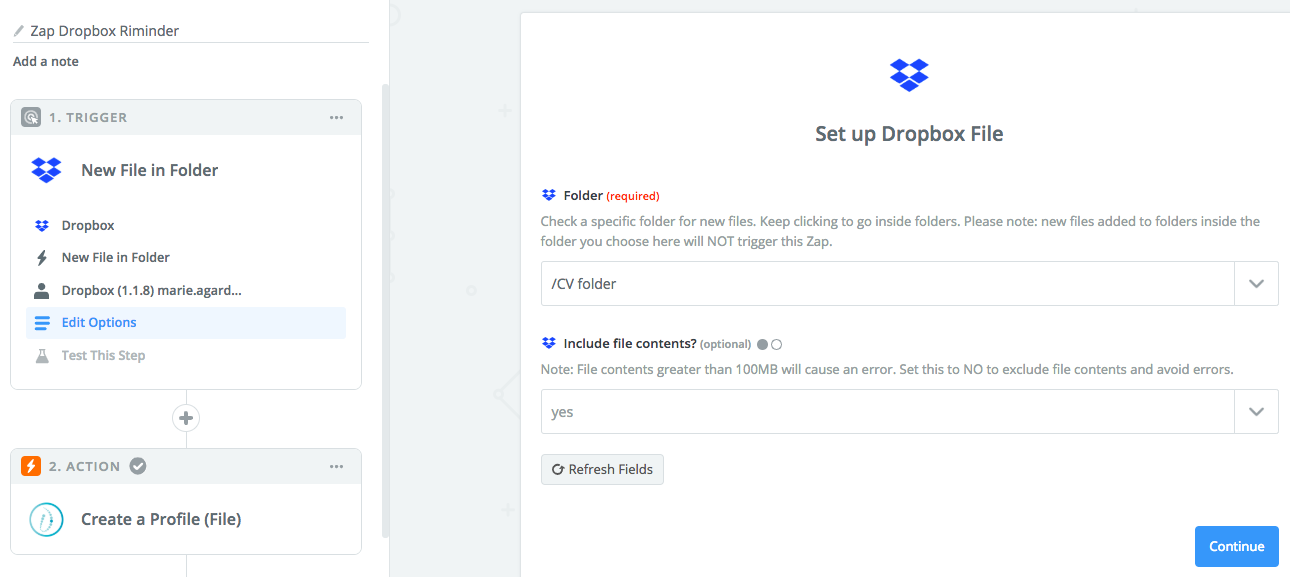 Pick 1 or several sample File(s) to test this step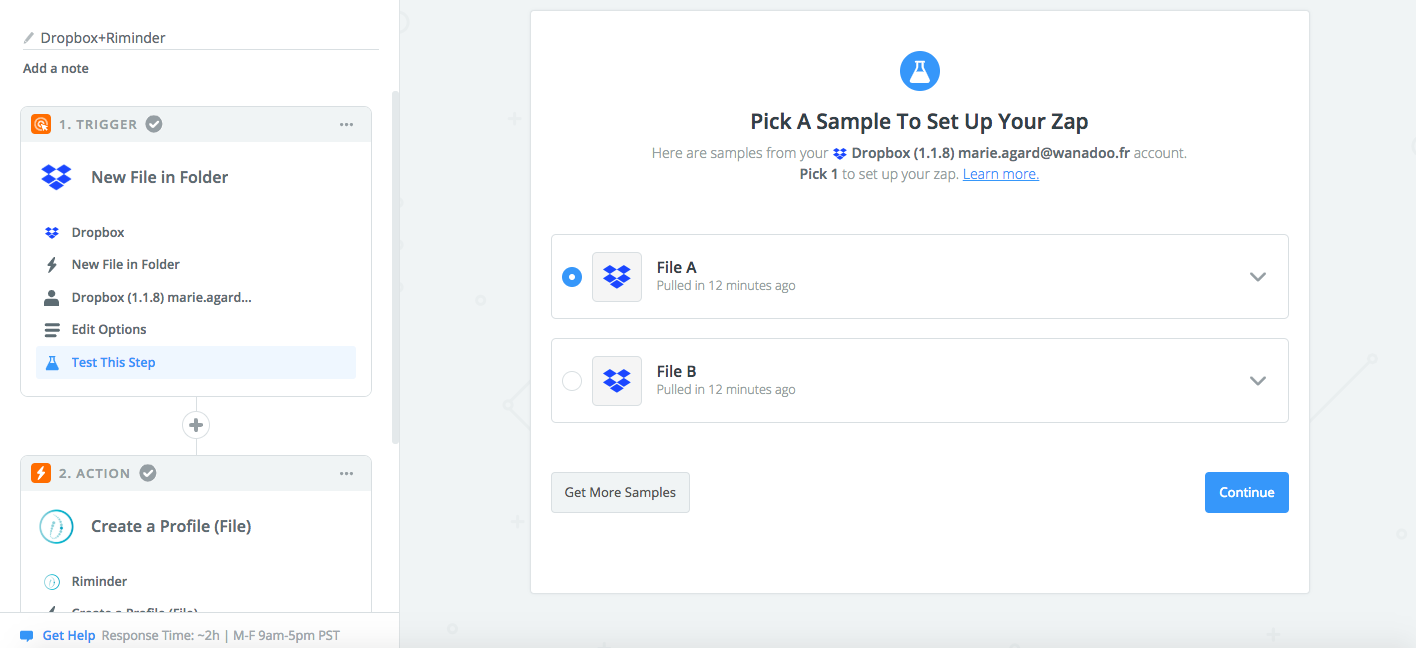 Step 4
Good, you've set up the Trigger. Now is time to implement the Action step, i.e. the result of the Trigger.
Choose Riminder as the Action App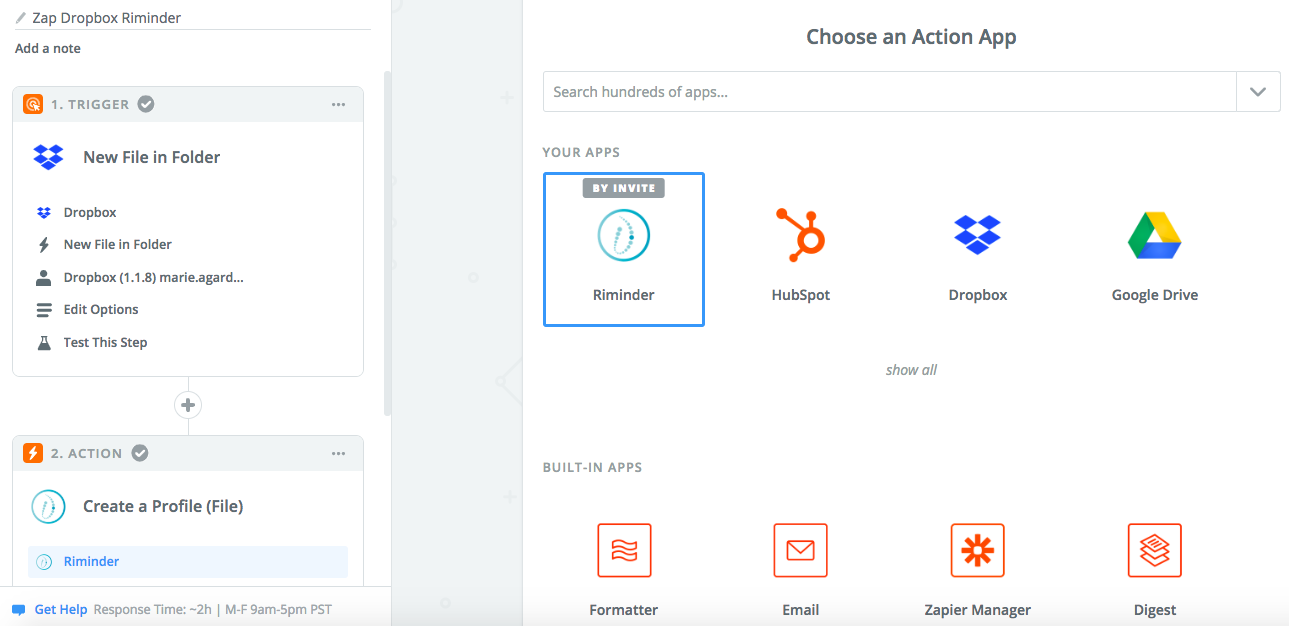 Choose "Create a Profile (File)" as the triggered Action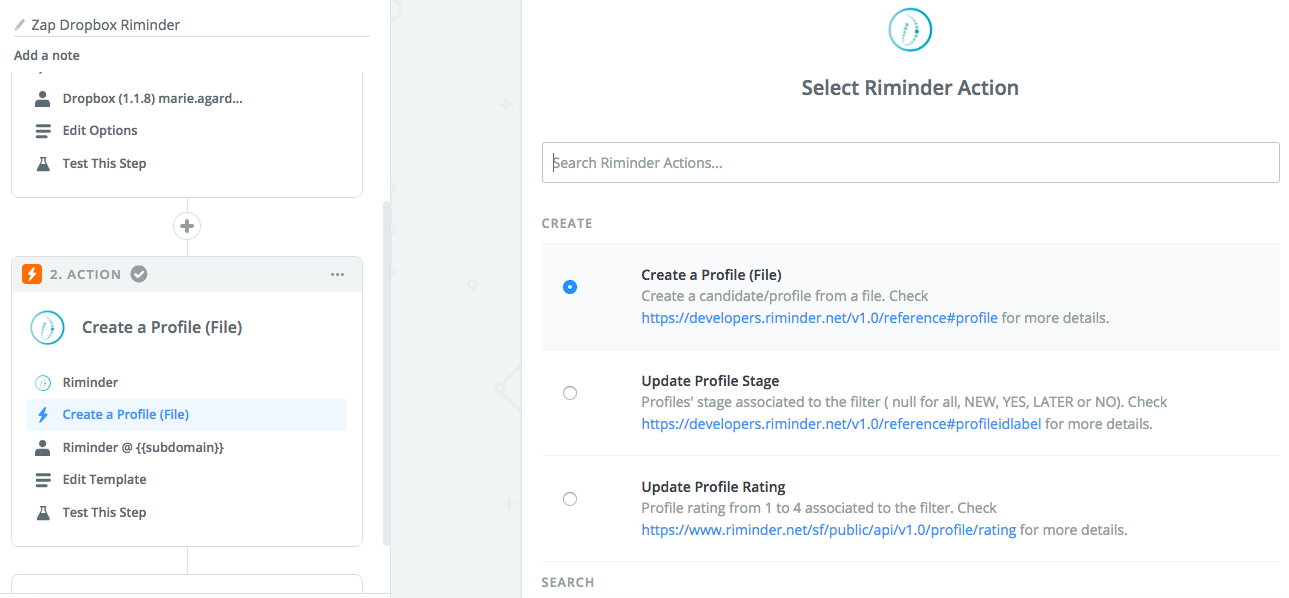 Connect your Riminder account by entering your API Key (to find it, go to your Riminder account and click on the API tab in the menu)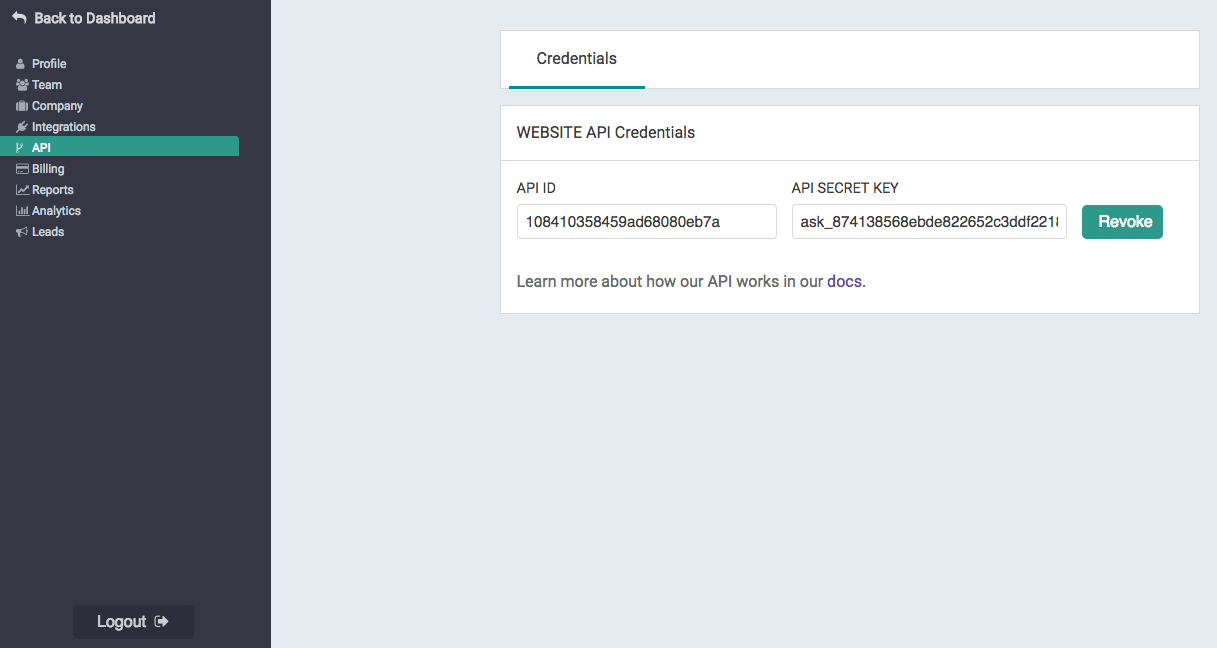 Specify the Source you want to feed with Dropbox by entering the Source ID: on Riminder, head to the Sources tab and click on the Edit button to access the source ID

Select the link to the sample File to be added to the chosen Source (select Direct Media Link)
Once this step is tested, click on finish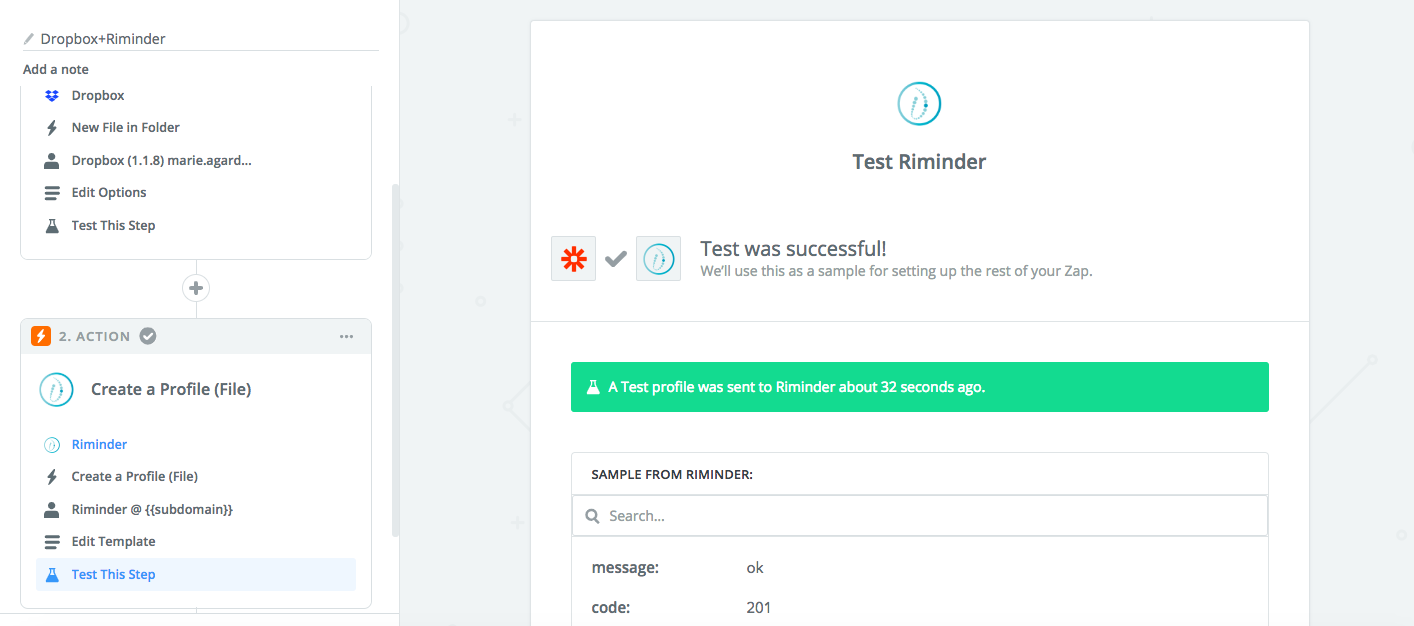 Step 5
Name your Zap and turn it on!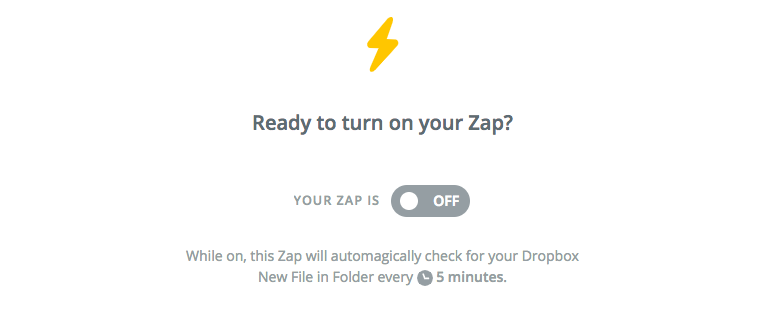 You're good to go! Each time a new file is dropped on your Dropbox, it will automatically be pulled to Riminder to be scored and then shortlisted. You can go even further by creating Zaps to automate the save of attachments from Gmail directly on Dropbox. Explore all Zapier' integrations here.
---
---
---