How to create a job Filter
Job Filters correspond to your hiring needs. They allow you to identify in a second the best candidates to meet for a position.
To create a Filter, please follow the next steps:
Step 1:
Click on "+" next to "FILTERS" to start creating a new Filter.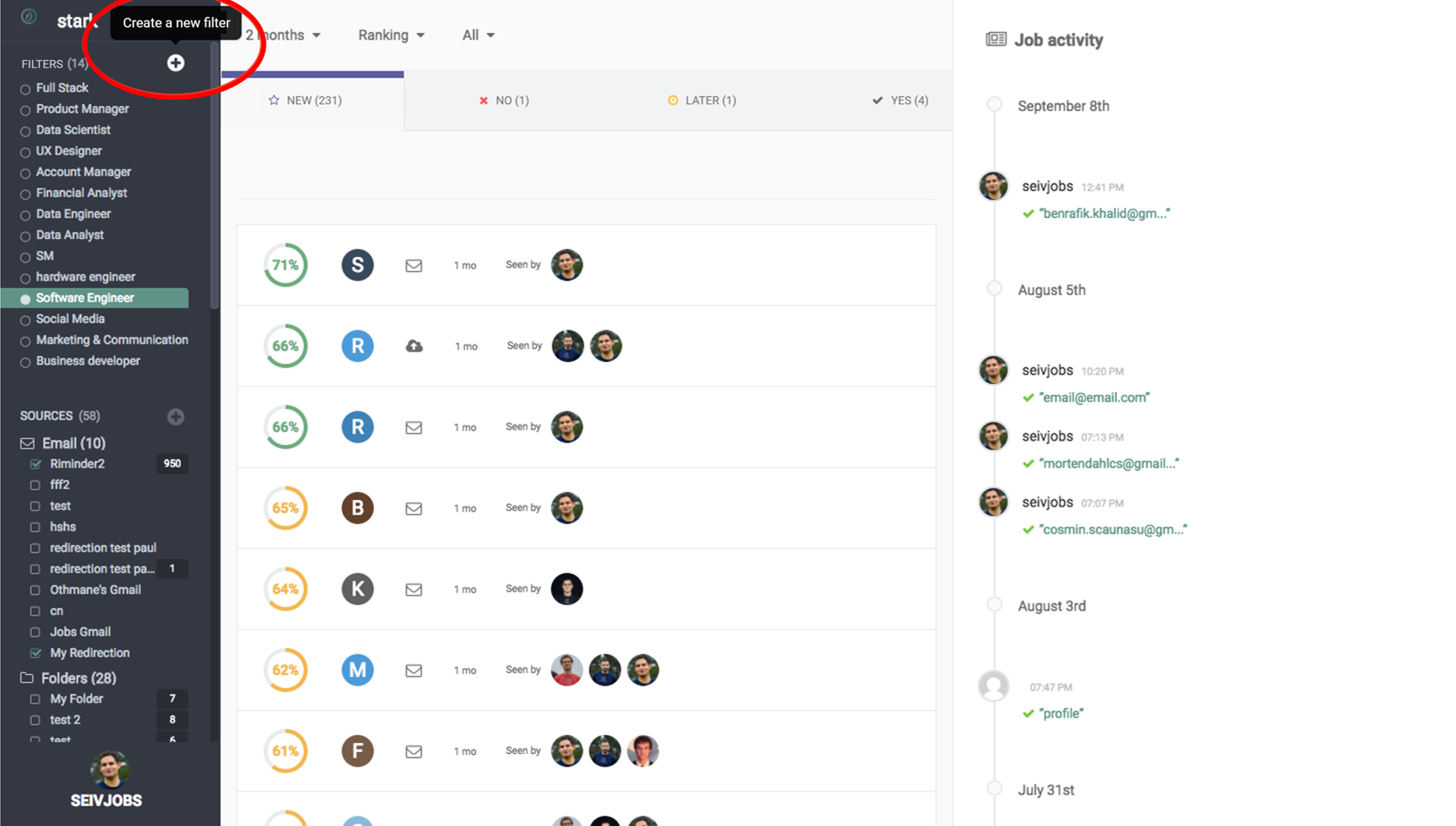 Step 2: Filter Settings

Enter a recognizable "Filter name" for your Filter so that you can remember it and other users can recognize it.


Choose a premade "Template" from the list of job Templates available here. These are models constructed from the analysis of millions of career pathways that will help you assess your applicants. If you don't find the job Template you want, click on the corresponding area, and we will get back to you.


Optional: Select the "Skills" that you expect your applicants to master for this position. You can look for soft skills, hard skills but also sector or general interests.


Optional: Enter a "Purpose" for the job Template.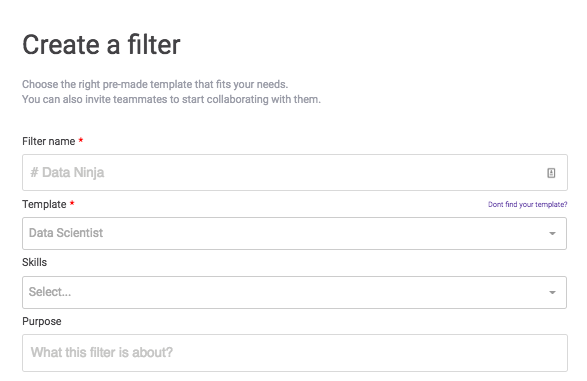 Step 3: Level of experiences (Optional)
 If you wish to only see candidates from a precise range of level (experience and/or education), you can select the ranges of your choice and combine them both if you'd like.

Step 4: Geolocation (Optional)

If you wish to search profiles by different location types, you can toggle the "Geolocation" option corresponding to your need while you are creating your filter:
Address: to show candidates that indicated an address close to your selected location.
Experience: to show candidates that have or had an experience near your selected location.
Education: to show candidates that studied near your selected location.
Enter a location in the "Location" field, and select a "Location range". The filter will show you the candidates that have either an adress, an experience, or an education within this radius, depending on the boxes you ticked.
You can also toggle more than one geolocation option if you are indifferent to the type of location constraint.
For example, if you toggle both the Address and Education options, you will see candidates that have either their address or an education near your selected location.
You can still edit those geolocation options once the filter is created, by clicking on the little Edit pen next to your Filter, on the dashboard.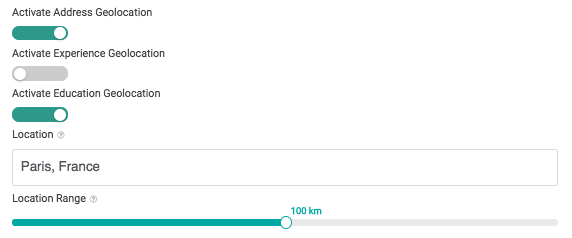 TIP: We recommend selecting a rather wide location range in order not to miss any candidate in this area. We recommend selecting at least 50 kilometers. 
Step 5: Tags (Optional)
If you wish to select profiles with specific tags (for example the URL of the page where they applied from), add those tags to the specific box as shown below :

Step 6: Notifications
Select "Job Notification" if you wish to receive alerts for candidates above a chosen score and chose the score with the threshold.

 In the "Filter managers" field, you can choose other team members to manage the job Filter with you. They will automatically follow the Filter as soon as it is created and receive notifications about interesting profiles (see below).

"Filter reference" will be useful for API Usage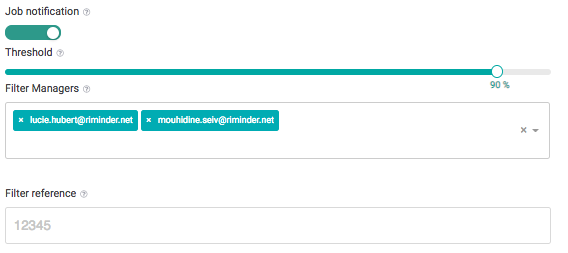 ---
---
---